I was looking through some old newspapers online and I came across a short article about a young man drowning on the 8th of June 1884 in Ft. Worth, TX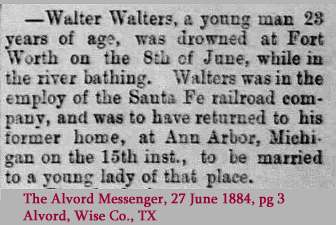 TRANSCRIPTION:
--Walter Walters, a young man 23 years of age, was drowned at Fort Worth on the 8th of June, while in the river bathing. Walters was in the employ of Santa Fe railroad company, and was to have returned to his former home, at Ann Arbor, Michigan on the 15th inst., to be married to a young lady of that place.
Source:
Newspapers.com
Of course I attempted to locate his memorial on Find A Grave and I did find one but I am not sure if it is the correct one since there was no headstone shown to verify the dates.
Walter Walters
Oak Ridge Cemetery, Springfield, Sangamon Co. IL
What we can take away from the article is that Walter was born some time in 1861; he worked for the Santa Fe railroad; that he died on June 8, 1884 in Ft. Worth, TX. This city covers over 350 miles and spreads into Denton, Johnson, Parker, Tarrant, and Wise counties.
I went to
Ancestry.com
to see if I could find a census for a Walter Walters in Michigan born about 1861.
Source Citation:
Year: 1880; Census Place: Kalamazoo, Kalamazoo, Michigan;
Roll: 586; Family History Film: 1254586; Page: 120C;
Enumeration District: 132; Image: 0241.
Perhaps someone who is researching this family will find this small amount of information helpful.
###